Ethnographic Museum of Almagreira
10
avr.
2022
Understand the traditions of the region ad discern habits worth preserving and customs worth changing. Appreciate the present and the past in order to build a better future.
Listening and critical thinking, empathy and imagination are the skills targeted.
The museum is divided into 3 areas: in the first there is a reproduction of a house from the region in the past centuries; the second contains the work tools and the last one the objects of worship.​ The guide explained the uses and the traditions and concluded that every person, in order to be complete, must work on the three aspects of life that are portrayed in the museum: his or her human and affective, cultural and working, and spiritual and religious side.
The students meditated on the importance of remembering their origins and debated on the differences bwtween the present and the past. They compared the local traditions to those of their nations. They managed to get in the shoes of people from the past, and imagine a life different from their own.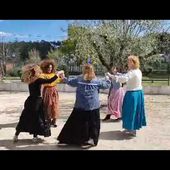 Uploaded by None on 2022-09-14.