SPO "Boys' and girls' games", building a booklet
10
avr.
2022
In the weeks previous the arrival of the foreign guests, the Portuguese students had researched traditional games, asking their elders, had selected eight they considered more significant, had -for each one- translated the name, summarized the rules and found a representative image; so, in class, what remained to be done was to explain these games to their foreign companions and assemble a booklet with the rules of the games. Once the booklet was completed, the groups discussed the distinction of genres that used to exist in the past when choosing games. While cutting and pasting, they also talked about the games they enjoy playing.
The students built 8 booklets of rules, one for each group. They agreed that there is no such thing as a "girls' activity" or a "boys' game" and prepared to play each of the games they studied, in the afternoon.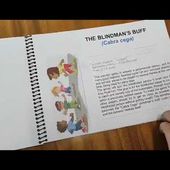 Uploaded by Erasmus Juliet on 2022-09-14.