SPO Traditional games tournament
10
avr.
2022
This activity aims to teach the importance of pair and teamwork; how to be flexible and compromise; be competitive in a healthy way.
The skills targeted are Organisation; Collaboration; Communication; Participation and a variety of motor skills.
Using the research done previously: the list of the most popular activities played by boys and girls and the corresponding rules and scores, the students organized autonomously the groups to play together and compete in traditional games such as tug-of-war; sack races; various throwing games and the game of elastic. ​In the breaks pupils learnt how to make rag dolls with the guide of the experts.
The students autonomously organized throwing competitions and tug-of-war challenges, but needed a little encouragement from the teachers to start playing the games that are less spread in the present, such as the sack race. They did not make the teams following genders, but rather nationality or Erasmus pairs. People of every gender also happily made dolls.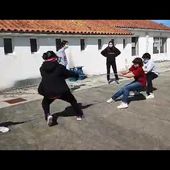 Uploaded by Erasmus Juliet on 2022-09-14.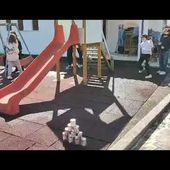 Uploaded by Erasmus Juliet on 2022-09-14.